11

min read
The saree as a concept has been interpreted in diverse ways for various audiences –a cultural symbol for Indian women everywhere or a mere popular tool used by Bollywood time and again for objectifying the female counterpart of their films.
What a saree means to the ordinary woman can be understood by how Bollywood uses the saree as a tool to further the various stereotypes that it propagates through its female characters.
How the saree becomes a tool of objectification when it comes to our infamous item numbers, or how it represents maternal affection through the 'maa' stereotype –the mamta of whom the saree so envelopes; and finally, how the transformation from a typical 'modern woman' to a homemaker can be achieved by simply wearing a saree.
Amidst all of these reductive representational crises there is the ordinary woman for whom the saree is simply a means of self-expression. A choice of clothing that defines her comfort and her individuality.
Tip Tip Barsa Paani, Paani Ne Objectification Lagayi
The discourse on the problematic female representation in Bollywood is certainly endless. But there should be a special place of honour in this discussion for the overly sexualised combination of the saree and item numbers. And of course the occasionally added element of the very bollywood-y barsaat that seems to expedite the romance that ensues between the protagonists.
It's difficult to narrow this list down –considering there are so many films that have used this draped piece of cloth to accelerate the oomph factor of their overall production; but I'll try.
So what do you do when it's raining? Crave for a steaming cup of chai and hot pakodas to go with it, because same. But our pre-#MeToo Bollywood would have you believe that monsoon is the season of getting it on.
Because as the film 'Mohra' would want you to know, what else is there to do other than scuttle away to an abandoned factory and get grooving with your guy!
And my heart goes dhak-dhak simply imagining how Madhuri Dixit managed to keep all that keechad off of her gorgeous saree.
If you thought it was just the barsaat that was causing all that sizzle, think again because we have a whole other gamut of instances where the demand for water is nowhere except of course the thirst that it is meant to cause.
So what is the ingredient that can make an ordinary college chemistry professor the subject of a soldier disguised as a student's dream? Any guesses?
The guardians of our Indian Culture pedestalise the saree like the emblem of our 'sanskar', but Bollywood in its representation has successfully reversed this and managed to tarnish the sanskariness of it all and made it every sanskari mard's wet dream instead.
Maa Ka Aanchal
Let's take a detour from the grouse that we have with these item numbers and problematic representation. There have also been filmmakers who have used the saree as a means to further the idea of maa ki mamta. Not very different from objectification per se, the saree has been the symbol of maternal affection for several of these films.
The universal maa of Bollywood, there must hardly be a film when Nirupa Roy played a mother and did not wear her iconic white saree.
Because you're not a self-sacrificial maa if you don't have a white saree on.
And the actress without whom the list of Bollywood mothers will remain incomplete -Rakhee. Perhaps the reason her Karan Arjun did not come was because they were bored of seeing their mother dress up in the same sarees over and over again. A rebirth was just may be the only way they could avoid having that talk.
The flag bearer of familial traditions Rajshree is famous for generating films that further the mother stereotype in the most conventional of ways. Reema Lagoo –perhaps the 90's equivalent of Nirupa Roy is no different in her attire as a mother. Dressed in a plethora of rich sarees that show both her standing in the society and her mamta in the family, I wonder how the character would have turned out if she chose to dress herself in easier and more comfortable clothing.
The Transformation From Being A Carefree Bird To Being More Gharelu
Contrarily enough, while the saree when coupled with the right amount of paani and dhak-dhak can give off the required sizzle; it can also represent modesty if worn in the sanskari context if it has to.
As a medical student falling in love and having a child out of wedlock Vidya (played by a brilliant Vidya Balan) does not find the need to drape on a saree and instead chooses to dress herself in what can only be described as a liberating quirky goth –with her commando boots and flowy skirts.
But life as a doctor with her son and her mother calls for some modesty policing in her attire. And what better tool to further this transition from a life of liberation and carefree behaviour to a life of a mother?
Because there was absolutely no opportunity for her to go change in something more comfortable and more suitable to play basketball in… as the instructor of a summer camp.
The journey for all these characters from their unconventional original self to their more mature and socially acceptable versions is complete simply by wearing the 'more traditional' attire.
The transition of Kajol's character in Kuch Kuch Hota Hai has been called out for its problematic transformation countless times. But what is interesting to see here is that this metamorphosis into the conventionally more 'desired woman' is achieved by simply draping a saree on (while obviously becoming more sublime and demure in the process).
Because if KKHH would have you believe, the way to a man's heart is to stop behaving like your own carefree self and instead start dressing in a manner that matches his image of the 'perfect woman'.
Clothing is most certainly an important facet of designing characters for the screen. And the saree –the various manners in which it has been designed for specific characters, is just one of the many contested topics that address both the discussion on Indian culture as well as Bollywood.
---
---
Subverting The Saree
The saree in all its glory has also been a piece of cloth that supposedly hides flaws. Something that you can drape around yourself in the way you deem fit. Something that doesn't discriminate between body types and something that can be worn in the manner that you choose.
Vidya Balan has been repeatedly chastised for her clothing choices right from the moment she became an integral part of the film industry. From being body shamed for her portrayal of Silk Smitha in 'The Dirty Picture' to being persistently questioned for her clothing choices in several other films, she has now arrived at the destination that most women are still journeying towards –being comfortable in her skin.
She has managed to subvert all that criticism by choosing to don the Saree –both on and off screen.
It is the manner in which she has chosen to embrace the saree that is representative of the elegance that this piece of cloth coupled with the intrinsic comfort that you feel in your own skin can exuberate.
Women like Sarla Thakral have also managed to subvert this modesty policing and actually used the saree as a means to women empowerment.
"I'm sorry who is Sarla Thakral?"
So when Sarla Thakral –India's first female pilot, flew the Grey Moth in the year 1936 at the tender age of 21; she chose to wear a saree. This was not a random fashion choice but a conscious one –one that has immense socio-cultural implications.
When we choose to wear trousers and pants to work that have been considered 'for men'- like say flying a plane, we are imitating a man. Essentially, we are being men and negotiating a man's world.
What Sarla Thakral reminds us that it doesn't have to be a man's world. It can be a woman's too. The cockpit would have remained a masculine space if Sarla Thakral chose to wear her husband's pants instead of her saree. So when she stepped into the cockpit – wearing a cultural signifier of being a woman, she changed the cockpit to a gender-neutral space.
The Politics Of The Saree
But let's move on from the flag bearers of tradition and look at what the saree means to the public that it actually concerns –the women.
Let's look at our Indian female politicians. A symbol of power, dominance and womanhood all coupled into one –the saree is the chosen attire for most of our female leaders.
But the contention that somehow gets missed in this debate is that whether this is a conscious choice –the status quo voluntarily chosen by all female leaders or something that is chosen by a process of eliminating all other clothing options. Because wonder how this country would react to a female leader dresses in pants?
As much as this choice can be attributed with a statement of power, there can be an equally strong opposing factor that highlights a sense of submission. Submission to dress in accordance with how society perceives women leaders must look like.
The sarees can be the patriarchal prison that women are imposed to – if we let the institutions that define this country make them so.
But what is important to remember is what Sarla Thakral was trying to say all those years ago –to refuse the need to abandon traditions simply for their gender connotations.
It can exude power if we want it to. It can become the tool that defines female dominance if enough characters of this sort are written. And more importantly it can be metonymic of female strength –the one that does not need a man to tell her what she should wear.
It is real women like our leaders that reclaim the saree not as something meant to trigger a man's wildest fantasies but as a symbol that is meant exuberate power.
And To The Ordinary Woman
A lot of the feminist discourse out there talks about how mandating the saree in several institutions is simply a means for patriarchy to regulate women's bodies.
I remember in school, the times when the entire student and teacher body would be busy prepping for an upcoming annual day, or a sports day or any other cultural event. The D-day of all these events would more often than not entail a much-planned-out and excessively fussed over entry of one or more 'honourable chief guests' –who were mostly men in positions of power that had some stake in the monetary well-being of the school.
A lot of thought used to go into planning their entries into the event –a marching band, or a welcome song, or lighting of the candle, presenting them with hefty bouquets of flowers, etc. But do you remember who used to be chosen for the fancy position of giving those bouquets away? If your school was anything like mine back in the early 2000's, a bunch of schoolgirls dressed up in sarees.
Back in the day being chosen to wear the saree and present the bouquet was made out to be something of a privilege –because it translated into being called pretty.
With schools becoming more woke this can be a dying tradition now (one can only hope) but the notion, now when I look back at it in retrospect reeks of sexism.
And the concept of a saree yet again comes into the forefront as being the means to sexualise young girls –making them look older and perhaps more desirable in the conventional sense of the term.
More recently, I remember talking to my university professor, who guest lectured in several other universities –a lot of which have the saree as a mandatory dress code for female professors. My first question to her was if there were any such prescribed guidelines for the male professors? A formal shirt, ties, buttoned down blazers, or even a dhoti perhaps? Her answer: No.
But doesn't a rolled up formal shirt look lovely on men?
But what this also makes me wonder is what is the yardstick of modesty? The same aforementioned university in question penalises female students for a. their kurtis being too short and b. for not pairing their approved kurtas with a modest dupatta.
So what is this criterion that defines modesty? The one that approves of the six-inch-midriff exposure in a saree but castigates the uncovering of the two-inch-neck area?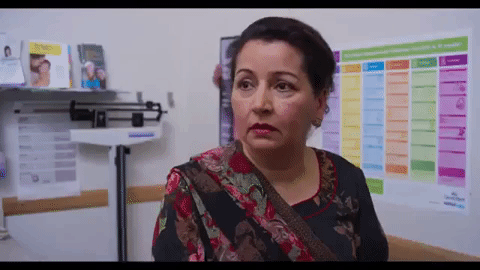 But coming back to what the saree means for the ordinary woman, isn't there a sense of accomplishment in being able to drape that 5-yard piece of cloth around you in a way that magically stays? Pulling off the saree in itself is something that marks a sense of feminine confidence.
Because let's face it, it is a difficult piece of clothing to pull off.
Take Vidya Balan in Tumhari Sullu or Mission Mangal or even Sridevi in English Vinglish. These characters are the perfect attestation to owning the saree not only as their preferred choice of clothing but also their character. I can't imagine Sullu or Shashi without their sarees, and the iconic way with which they've pulled it off as beautifully as if it was always meant to be that way.
The essence of their womanhood, their homely responsibilities, their maternal concern and their position as the glue that holds their families upright; the saree is the perfect signifier of all this and so much more.
Vidya Balan both in real life and in the film Tumhari Sullu is a brilliant testament to what the Saree is to the ordinary woman.
A piece of clothing that doesn't judge, doesn't have a size, and doesn't discriminate. The saree envelops the essence that Sullu emulates –her womanhood, her maternal affection, her ambitions and her natural comfortable self. The one that does not shy away from being true to herself –be it in her kitchen or in her workspace.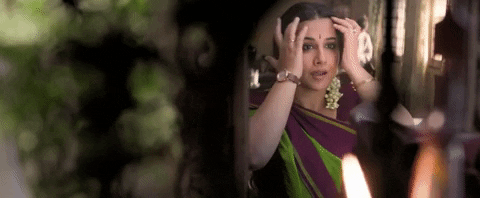 But more than anything else, the saree is the choice to just be. Above the debate of objectifying or empowering, the saree represents individuality. The manner in which a woman chooses to drape her saree is representative of her own subjectivity; her own agency and way she wants the world to view her.
Come, be a part of our women only career community where you can network, ask questions, share your opinions and collaborate on projects & opportunities. Join now.